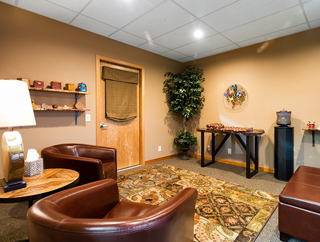 Reflection Room
Our Reflection Room is a warm and lovely place for one last visit with your pet prior to cremation. This space can also be used for in-person witnessed cremations and memorial services.
(Please note: Radiant Heart After-Care for Pets does not provide euthanasia service. Please contact us if you need assistance finding a licensed veterinarian to provide euthanasia for your pet, or check our list of referring veterinary services.)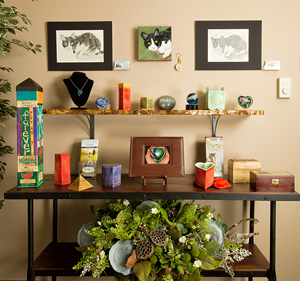 Reception/Office
Our front office is an inviting place for pet parents to sit and go over their service order and share stories from their pet's life. In-stock pet memorials can also be found in this area.
Care Center
Our Care Center is where your pet is cared for and cremated. This space is where we keep our environmentally friendly Therm-Tec crematorium. You are welcome to tour our facilities, including our Care Center, at anytime.