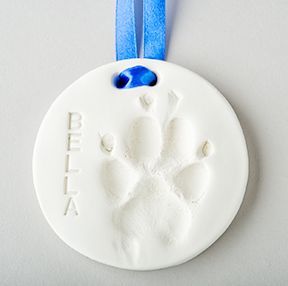 Your pet's clay print should last a life-time. That's why at Radiant Heart After-Care for Pets we use a white polymer clay. White polymer clay is more expensive than the types of clay commonly used by veterinary clinics or other pet cremation services. However, polymer clay allows for a detailed and highly tactile print that once baked is almost impossible to break.
Once we have a nicely shaped and detailed impression of your pet's paw, we then add your pet's name. The print is baked for approximately 30 minutes, cooled, and then sanded both by machine and hand. (Sanding polymer clay creates a great deal of dust. In our Care Center there is a special room devoted entirely to sanding clay paw prints.)
The clay paw print is a standard part of the full After-Care Package. Individual or additional clay prints are available for purchase. Please see Services & Pricing for more information.
Also see Mold & Cast Products